The Bells of St. Peters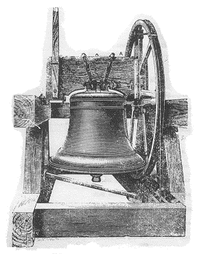 St Peters has a ring of five bells, and as is usual for village churches not all the bells are the same age. The three oldest bells are listed by the Council for the Care of Churches as being worthy of preservation.

The frame the bells are mounted in is interesting for although the current church is Victorian the part of the frame housing the three oldest bells appears to be of medieval date and presumably must have been moved from the previous tower and reused. The part housing the treble and second bell is later, probably dating from 1776 when the number two bell was added. A recent engineer's report states "There are relatively few medieval bell frames surviving in the country and thus that at Over Wallop is of some antiquarian interest".

In 2003 the bells had some remedial work carried out on them which involved the bells being dismantled from the frame, the bearings overhauled, the cast-in crown staple stumps were removed and the ringing circle was improved by turning the fourth bell round on it mounting and changing the rope runs of the other bells.


---
Bell Ringing

The bells were not rung regularly for the last twenty years of the 20th century, but at the millennium interest was revived and a band was formed to ring them again. Although there have been several changes of ringing members the band continues to ring the bells for services and weddings.

Practices are held on Wednesday evenings at 7.30pm.

The Five Bells of St. Peters

Bell Date Foundry Weight Note
Tenor c.1480 Salisbury 6 ¼ cwt 318 Kg A
Fourth 1631 John Danton, Salisbury 5 ½ cwt 280 Kg B
Third 1636 John Danton, Salisbury 4 ¾ cwt 242 Kg C#
Second 1776 Robert Wells, Aldbourne 5 cwt 252 Kg D
Treble 1875 Mears & Stainbank, Whitechapel 4 – 2 – 14 225 Kg E